MEAT & SEAFOOD SPECIALS 10/14–10/20
That's an impressive lineup of fish, and those aren't fish that you see every day. We'll be featuring Niceland Seafood throughout October. They are all about sustainability (both with the fish and with the fishing communities in Iceland that catch those fish) and transparency (Niceland provides the entire path that their fish take to get to you).
Ocean Perch
F&F $14.99/lb
(reg $16.99)
Wolffish
F&F $14.99/lb
(reg $16.99)
Cod Loins
F&F $15.99/lb
(reg $16.99)
Arctic Char
F&F $15.99/lb
(reg $16.99)
OUR BAGUETTE: A WORK OF ART (AND LOVE)
This is our baguette. Notice how, if you'd like to, you can throw it like a javelin. We think it's far too beautiful and delicious to be tossing it around like athletic apparatus, but go ahead and do what you do.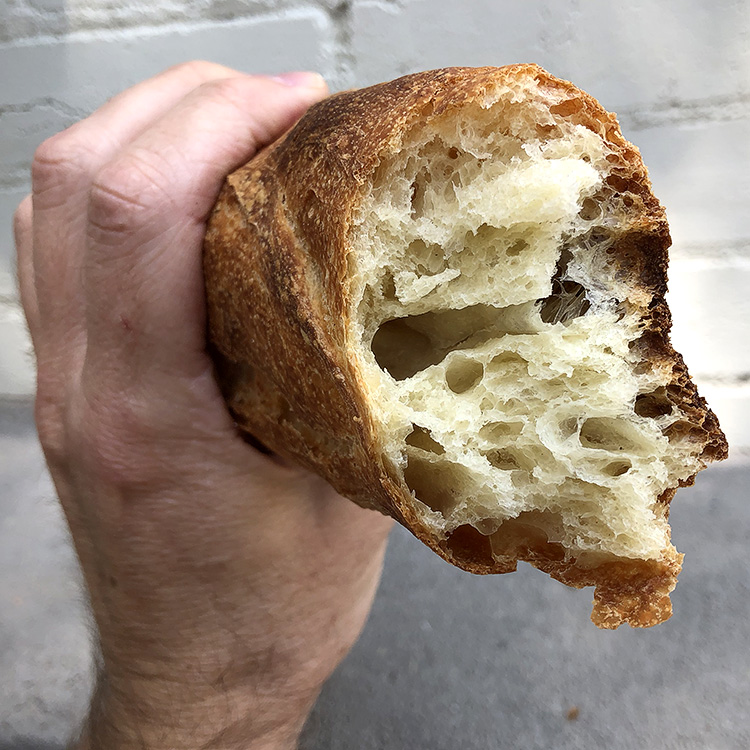 And now the sad part: In order to enjoy this baguette, you're going to have to tear into it. It's ok. They're made to be torn into. See how crunchy and splintery the outside is, and how soft, moist, and almost creamy the inside is? Now THAT'S a baguette.
We hand-roll every single one. We make them fresh every day with five ingredients: artisan bread flour, water, sea salt, yeast, love. (Love is actually the biggest ingredient volume-wise.) We've had many people say that our baguettes are as good or better than anything you'll find in France. (True story.)
We have some tasty things to show and say on Instagram.
A little #tbt to our annual Pig Roast at the beginning of the month. 🐷 It was yummy and we had fun with all of you, can't wait to do it again next year! • • • #pigroast #yum #instagood #5280eats #uptowndenver #community #denver #marczyksfinefoods #finefoods
Just like our gals over at @otfuptowndenver we are cravin' our meats and cheeses 🧀! We love our neighbors! 😁 Keep showing the love ❤️ and tagging us! • • • #orangefitnessuptowndenver #denver #deli #cheese #marczykfinefoods #community
Why is it that bread makes us so happy? Ah, the little things on a Monday 🥖😉 • #Repost @sodamngouda ・・・ The temperature drops in Denver and all we wanna do is eat carbs. For every meal. Thankfully, @marczykfinefoods delivers fresh baguettes 🥖 daily so our craving never goes unanswered. Thank you to our delivery 🚚 driver for our daily dose of gluten. #sodamngouda #baguettes #cheeseandbread 📸 @ryanmichaelscheer #denverphotographer #foodphotography #denversbest
Wolffish from @nicelandseafood is in the house! Come watch an awesome demo until 5pm at our Uptown location! 🐟🎣 • • • #nicelandseafood #yum #community #uptowndenver #wolffish #seafood #marczykfinefoods #denver #demo
Looking for a yummy weekend recipe? How about giving our Tarte Tatin a whirl? 🥧 • Makes 1 tarte. Ingredients 8 medium to large Ela Family Farms Jonathan apples 🍎 , peeled, quartered, and trimmed of seeds and core 7 tablespoons butter, salted or unsalted, very soft 2/3 cup granulated sugar or light brown sugar 1 sheet Dufour Pastry Kitchens puff pastry Marczyk Brothers Paperboy Crunch ice cream 🍨 • Directions: It helps prevent excess liquid later in the recipe to dry out the apple quarters for 2-3 days, loosely covered by paper towels on a tray in the refrigerator. Don't mind the browning. • To cook: Heat the oven to 370 degrees (340-350 if using convection). Coat the bottom of a heavy non-stick ovenproof or cast-iron skillet or pan with the butter, then the sugar. Arrange the apple quarters in the pan, gathering as many upright as possible. On a lightly floured surface, roll out the pastry dough to about 1/8-inch thick. Use a plate or the rim of a bowl the diameter of the skillet to cut out a round of the pastry, draping it over the apples, and tucking it in around the edge. Over medium heat, cook the tarte until golden-brown juice bubbles around the edge. (If the juices keep rising, spoon it out so that the bubbling juices are just at the edge of the dough.) Keep cooking, adjusting the heat is necessary, up to 10 minutes, until the juices begin to turn darker brown and smell like caramel. • Place the pan or skillet in the oven and bake for 40-45 minutes, until the pastry browns nicely. Let the tarte cool for 5 minutes only, then flip it carefully onto a round serving plate, dough side down, apples up, minding any hot caramel that might ooze or spill out. If any apples stick to the pan, they are easily removed and replaced into the tarte while it is warm. 🤗 • Serve, cut into wedges, warm or at room temperature, topped with the ice cream. Enjoy, snap some photos 📸 and tag us so we can share!! • • • #tartetatin #denver #colorado #recipes #yum #instagood #weekendvibes #denverfoodie #denverfood #finefoods #marczykfinefoods #dessert #elafamilyfarms #303eats
Going from 78 degrees to 23 degrees explains the craziness that is Colorado weather. ☀️🥶 Why not stop by and grab some Marczyk-made Chicken Pot Pies 🥧 to warm you up? Our crust is officially otherworldly! One pot pie is plenty to satisfy a mighty appetite. We're very proud of these. Grab yours for dinner today. 😋 • • • #chickenpotpie #coloradoweather #snow #firstsnow #yum #instagood #marczykfinefoods #potpie #coldweather #uptown #colfax
There are a few keys to this terrific grilled cheese sandwich: Marczyk's sliced white levain bread; a mix of cheeses; and an unholy amount of frying butter. Makes 1. 😋🥪🧀 • Ingredients * 2 slices Marczyk Fine Foods white levain bread 🍞 * Dijon mustard * 2 slices Marczyk Parisian ham 🐽 * 1 heirloom tomato, peeled, sliced very thin 🍅 * 1 cup grated semi-firm cheeses, mixed, such as 50/50 DeMill Munster and Jarlsberg 🧀 * Freshly grated black pepper * 1 stick (or more) unsalted butter • Directions Melt the butter over low heat in a nonstick skillet, minding that it does not burn as you prepare the sandwich for frying. Lay the bread out and lightly coat one side of each slice with the mustard. Top each slice with the ham, folded if necessary, just to cover. Lay the tomato on one slice of bread, to cover. Sprinkle the cheese onto the slice of bread with the tomato; grate the cheese generously with black pepper; then cover with the second slice of bread; and tap the sandwich lightly. Over medium-low heat, fry the sandwich in the melted butter until the first side is crisped brown; then, flip carefully (use both a spatula and tongs) and repeat for the second slice. Let the sandwich rest for 2-3 minutes before slicing it in whichever shapes you wish. Enjoy!! 😁 • • • #grilledcheese #yum #marczyks #finefoods #5280eats #instagood #303eats #foodie #foodblogger #denver #colorado #localeats